Eco Parchment Tray Veg1100 - Confoil
WE ARE CLASSIFIED AS AN ESSENTIAL SERVICE - PLEASE PURCHASE THROUGH OUR MAIN WEBSITE WWW.INSINC.CO.NZ, OR CONTACT US WITH YOUR REQUIREMENTS.
Eco Parchment Tray Veg1100 - Confoil.

Top out - 235 x 107 mm
Top in - 220 x 90 mm
Base - 200 x 75 mm
Height - 65 mm
Capacity - 1033 ml


Environmentally friendly range of flans and dishes, fully compostable and biodegradable made from 100% vegetable parchment. Freezable, microwaveable and conventional ovenable to 220 degrees celsius. The products are free standing and hold their shape. Siliconized for easy release also making the tray oil and moisture proof. Bake and distribute/sell your product in these dishes and reduce double handling and dishes. Suitable to be used where metal detection is present.

Beautifully presented and 100% compostable, our eco-parchment baking moulds are widely used by commercial and retail bakers, caterers and in cafes.

Our eco-parchment baking moulds come in a range of shapes and sizes, from round to oblong to suit your baking needs. They hold their shape exceptionally well during the cooking process and release food easily when it is time to serve.

Eco-parchment moulds are made from 100% genuine parchment, making them both compostable and biodegradable. The ideal choice for baking responsibly.

Suited for
' Chilled Contents
' Microwavable
' Ovenable
' Frozen Contents
' Cook Directly In Free-standing

Delivery 2-4 days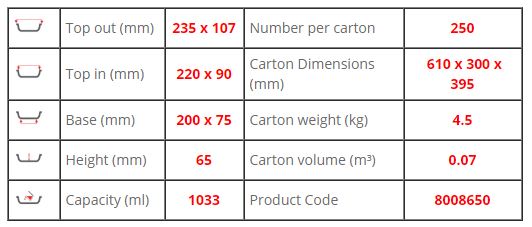 Contact Details
Request More Information
Details of the product above will be automatically included with your enquiry.