16oz Coffee Cups Art Series (90mm) Single Wall - BioPak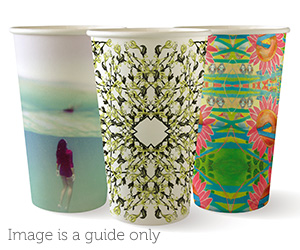 BioPak Hot Cups are produced from 280GSM heavy-duty board for a premium quality product with superior stability, lid fit and insulation and printed using soy or water based inks. All the paper is sourced responsibly from managed plantations and coated with Ingeo™, an innovative corn-based bioplastic rather than conventional petroleum-based plastic. All components of BioPak cups are made from rapidly renewable resources and are certified carbon neutral.

-Renewable resources
-PLA bioplastic
-Paper from managed plantations
-Hot food friendly (Do not microwave)
-Custom printing
-Commercial composting
-BPA free
-Certified carbon neutral

Carton 1000

Single wall.

90mm cup mouth - fits large lids.

Carton holds mixed cup designs. Cups designs change.
PLEASE NOTE: We are unable to guarantee which prints will be in each carton. Sometimes there may be only one and other times you may get an even split of two or three artworks.

See lid options below.
Eco-Friendly