Takeaway Container Base White 750ml BioCane - BioPak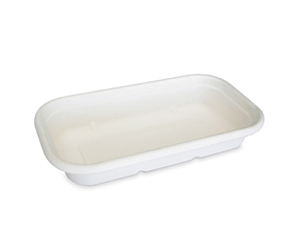 Made from reclaimed and rapidly renewable sugarcane pulp. A byproduct remaining after the juice has been extracted from sugarcane. Dispose of in an industrial compost facility or in general waste. Sturdy and versatile, these containers can handle a wide variety of foods. 100% renewable and compostable in a commercial compost facility.

- Microwave safe and oven proof up to 220°C for 20 mins and refrigerator and freezer safe.
- These takeaway containers are grease and water resistant, with a leak resistant and secure lid – perfect for food deliveries.
- Certified compostable in a commercial facility to American BPI and European EN13432 standards. Check with your local council if they will accept this in your green waste bin.

Suitable for sushi.

Brim full capacity: 750ml (25oz)
Length: 230mm
Width: 130mm
Depth: 40mm

Carton 500

Lids separate - see link below.
Eco-Friendly
View your shopping basket or browse other items.
Other products you might be interested in