Kitchen Foaming Soap Enviro - Green Rhino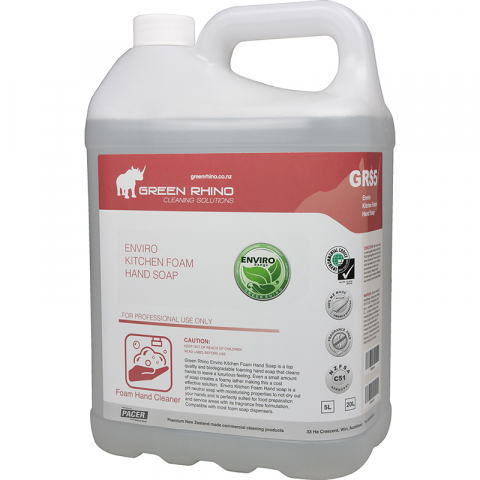 BENEFITS
• Cost effective cleaning action, remove dirt off hands
• Biodegradable
• pH neutral, mild on skin
• With moisturising properties keeping skin soft and supple
• Fragrance free, ideal for food service industries
• New Zealand made and owned

APPROVALS
• Environmental Choice New Zealand Licenced
• NZFSA Approved C51 (All animal products except dairy)

IDEAL FOR
• Hand cleaning that can be used through most foaming hand soap dispenser
• Areas like kitchens and food preparations. It is also great in general washrooms, toilets, bathrooms, shower areas, lunch rooms, cafeteria, gyms

IDEAL FOR
• Hospitality - Hotels, Motels, Holiday Parks, Resorts, Casinos, Pubs, Restaurant, Cafes
• Education - Daycare / Childcare Centres, Schools, Colleges and Universities
• Health - Hospitals, Resthomes / Aged Care, Medical Clinics
• General Workplaces - Offices, Warehouses

DIRECTIONS
Wet hands. Apply a small quantity directly onto hands. Rub hands together and scrub for at least 20 seconds. Rinse hands well with clean water and dry.
Eco-Friendly