250g Stand-Up Coffee Pouch, Rip-Top & Resealable Zipper, Brown Kraft - Castaway
Please note that due to high volumes couriers are taking longer than usual to deliver.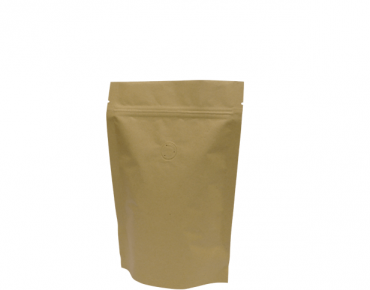 250g Stand-Up Coffee Pouch
Rip-Top & Resealable Zipper
Doyen Seal
Brown Kraft

Size: 230(H) x 160(W) x 90(BG) mm
Qty: 500 per carton

The stand-up pouch features a wide opening that makes it easy to fill. It is a versatile choice for roasters who pre-fill the pouch with beans, seal with the zipper, and then at the time of purchase, grind them for the customer. The bottom gusset allows the pouch to sit upright on the shelf, and the re-sealable zipper provides added convenience to keep the beans fresh between brews. Both sides of the bag can be custom printed to build your brand.

*BrandBuilders' custom printing available
*Designed for retail coffee bean sales
*Doyen style U-shaped bottom gusset for standing upright
*Heat-sealable, wide opening for easy filling
*One-way degassing valve
*Resealable zipper built-in
Contact Details
Request More Information
Details of the product above will be automatically included with your enquiry.