Smoothwall Tray 550ML - Confoil
We are open for business during Covid lockdown 4 as an essential service. 
Place your order or send an enquiry and we will respond as soon as we can.
Smoothwall Tray 550ML - Confoil.

Top out - 150 x 125 mm
Top in - 132 x 107 mm
Base - 117 x 92 mm
Height - 50 mm
Capacity - 550 ml


A Heavy duty construction foil tray with the ability to seal ovenable films and extends shelf life using M.A.P. Suitable for grilling, ovenable and BBQ. Minimises handling of raw meat and poultry and does not soften at high oven/grill temperatures. Cost effective premium foil tray which does not shatter when frozen. Fully recyclable.

Our smoothwall foil trays are made from an extra tough, heavy gauge aluminium with a smooth flange to accommodate heat sealing as well as clip-on lids.

Perfect for preparing, displaying & cooking chicken, fish, red meat, prepared meals, pasta's and deli counter ranges. Smoothwall foil is an especially popular choice for butchers and can be personalised with your branding.

Made from quality heavy gauge foil, our smoothwall trays are 100% recyclable and endlessly renewable. Making them a great, environmentally responsible choice.

Lid Compatibility
' Heat Sealable Designed to be used with heat sealing machinery and a compatible film lidding
' Clip-on Lids Available with specific containers

Suited for
' Chilled Contents
' Microwavable
' Ovenable
' Frozen Contents
' Cook Directly In Extra Tough

Delivery 2-4 days
Recyclable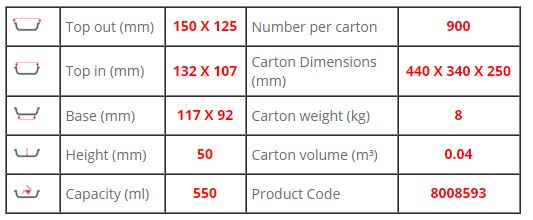 Contact Details
Request More Information
Details of the product above will be automatically included with your enquiry.