Bin 35L Stackable (fits 80L Tie Top Liner) - Recycled grey body with multiple lid colour and label options - Vegware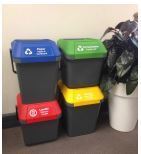 Separate up to 4 waste streams with the footprint of only one bin, UV stabilized for outdoor use. Use with 80L Tie Top BioBag liner BG187437, certified compostable, keeps bins clean. A tower of colour coded stackable bins with a foot print of only one bin makes it easy to separate waste at source, with each bin and colour identifying a separate waste stream. The result is an increased quantity and better quality of recovered resources rather than mixed contaminated waste sent to landfill. With this bin system space is no longer an excuse for not recycling, the stack is stable and occupies no more space than a single bin. Ideal for organisations, offices or larger uses filling is easy with a front opening flap and no need to move any bins. The bins are small enough to allow handling with ease even when full. A proper system to separate the waste streams is not only better for the environment but also makes financial sense, especially for the larger user, it can reduce the trash and weekly costs by up to 90%.

By using the BioBag liner especially for the organics or putrescibles the high value organic resource can be easily handled for composting or animal feed or worm farm. BioBag liners make collections convenient, even pleasurable and good for the planet. They also provide a labour savings by not having to clean the bin or use detergents or water as with regular bins. Bins are typically washed outdoors where the detergents pollute the storm water and streams. The 40 Litre Stackable bins work best in conjunction with the MaxAir or TallAir systems and the Desk Cube.

Specifications: Material: Recycled and virgin Polypropylene ' Bin dimensions: 420 mm x 410 mm x 450 mm high ' Colours: Dark Green, Lime Green, Grey, Red, Blue, Orange, Brown and Yellow ' Fits 80 Litre Tie Top BioBag liner.

Labels available:-
- Compostable: Food & +60'
- Landfill: Waste to Landfill
- Paper: Paper & Cardboard
- Recycle: Glass, Metal & Plastic
- Paper
- Recycle: Glass
- Soft Plastic
- Recycle: Metal & Plastic

Item dimensions 42 x 41 x 45cm high
Width 42cm. Length 41cm.
Eco-Friendly