Natural Graffiti Remover - Green Rhino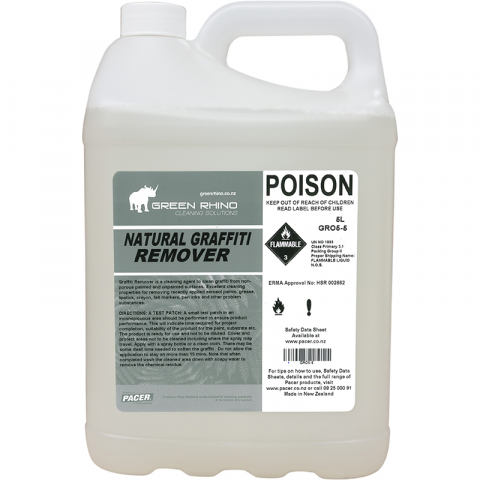 Green Rhino® Natural Graffit Remover is a cleaning agent to remove graffiti from non-porous painted and unpainted surfaces. Excellent cleaning properties for removing recently applied aerosol paints, grease, lipstick, crayon, felt markers, pen inks and other problem substances.

DIRECTIONS:
A small test patch in an inconspicuous area should be performed to ensure product performance. This will indicate time required for project completion, suitability of the product for the paint, substrate etc. The product is ready for use and not to be diluted. Cover and protest areas not to be cleaned including where spray may travel. Apply with a spray bottle or a clean cloth. There may be some dwell time needed to soften the graffiti. Do not allow the application to stay on more than 15 mins. Note that when completed wash the cleaned area down with soapy water to remove chemical residue.
Regular