Noodle Box Kraft 16oz - Green Choice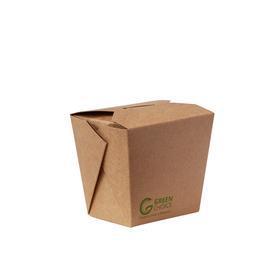 Green Choice Kraft Noodle Box 16oz.

110L X 75W X 85H-480ml/16 floz (US)

Carton 500 (10x50)
Our range of cardboard snack boxes are very popular in NZ markets. They pre-constructed and easy to close and seal. They are made of card and lined with PLA, a plant-based plastic, and not a petroleum-based plastic. This provides a barrier to oils and sauces and avoids leakage. As food contamination is not a problem, the waste container can be sent to a landfill (to eventually breakdown into plant matter) or sent to a commercial composting centre (for conversion into compost).
Eco-Friendly