Disinfectant AP349 Hospital Grade 500ml - Qualchem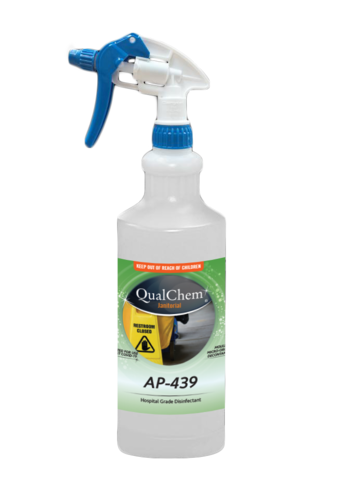 Hospital Grade Disinfectant
Micro-organism decontaminant
TGA Listed (ARTG 332364)

AP-439 RTU (ready-to-use) are modern innovations
in cleaning and disinfection technology. AP-439 is a single-step,
hospital grade disinfectant with awesome cleaning power and is
effective against a wide variety of pathogenic micro-organisms
including viruses, bacteria, fungi, mould and mildew.
Kills Coronavirus SARS-CoV-2 (COVID-19 virus)
Powerful, single-step disinfection with unique benefits of being
completely non-toxic and safe for use in food preparation
environments.
MICRO-ORGANISM DECONTAMINANT
AP-439 not only has incredible biocidal efficacy but also rapidly wets out and penetrates pores on the contact surface. This is complemented by it's extremely high tolerance of organic soil. These features contribute to it's unique effectiveness in wide range of bio-hazard
decontamination and mould remediation applications. Whether it's healthcare, community cleaning or disaster restoration, Biosan II is a highly effective bactericide and surprisingly economical to use.

At recommended dilution rates AP-439 is active against gram positive and negative bacteria, enveloped viruses, moulds and fungi.

Directions for Use:
Apply the solution liberally.
Agitate and allow 10 mins dwell time.
Rinse surfaces with clean water.
Clean surfaces can be left to air-dry (wipe away excess solution) for maximum disinfection and for longer protection against micro-organisms.

500ml spray bottle ready to use
Regular
AP-439 has many incredible benefits which make it an increasingly popular choice in hospital grade cleaning and disinfecting situations. Non-toxic, Pleasant fresh fragrance Safe for use in food environments. Outstanding cleaning powerNon-corrosive and safe for use on metal surfacesleaves an active residue that will continue to be effective for hours after cleaning.Kills mould
• Sophisticated Anti-microbial Blend – AP-439 employs a potentiated biocidal blend which provides a significantly faster and wider scope of kill.
• Penetration – To provide ultimate sanitization of target surfaces, this powerful anti-microbial package has been combined with super-wetting technology. This enables the biocide to wet out surfaces and penetrate faster and deeper into porous substrates.
• Broad Spectrum of Activity – AP-439 has lethal capacity against an extremely broad scope of microorganisms, making it the ideal product for a wide variety of applications.
• Provides a Safe Working Environment – ideal for removing or minimizing dangerous micro-organisms ahead of continuing with restoration clean-ups involving human and animal fluids, sewage and mould.
• Eliminates odours – AP-439 eliminates odours at their source by powerful anti-microbial action against odour causing germs.
APPLICATION AREAS
Hospitals - CSSD Stainless steel and plastic surfaces, non-therapeutic equipment, walls, floors and doors.
Hospitals - Intensive Care Stainless steel and plastic surfaces, non-therapeutic equipment, walls, floors and doors.
Hospitals - Theatre (excludes medical devices) Equipment, hard surfaces, walls, floors and doors.
Hospitals - General Cleaning up blood and body fluid spills, desks, chairs, benches hard surfaces & equipment, handles, trolleys etc.
Childcare/Nursery Scales, cots, change tables, trolleys, touch points.
Aged Care All hard surfaces, wheelchairs, tables, hard floors, doors, etc.
Dental & GP Surgeries All hard surfaces, chairs, trolleys, treatment tables & lights.
Laboratories & Pathology Clinics All hard surfaces, fume cupboards, benches, chairs, desks, trolleys.
Government City Council, squatter clean-up, mould, trauma and flood clean-up
Education Schools, universities, tafe.
Public Transport Hard surfaces, fogging applications, handles, seats, touch points
AP-439 is effective against a wide spectrum of pathogens:
• SARS-CoV-2 (COVID-19 Virus)
• Staphylococcus Aureus (MRSA or Golden Staph)
• Escerichia Coli (E-Coli)
• Pseudomonas Aeruginosa
• Proteus Vulgaris
• Aspergillus Brasiliensis
• Salmonella Choleraesuis
Application:
Only use clean cloths or paper toweling when applying and using AP-439 solution. Follow established cleaning code of practice procedures to avoid cross-contamination.
When spraying or fogging wear relevant PPE to protect eyes and to avoid inhalation.
Not to be used on skin.
The disinfectant is not to be used on medical devices or other therapeutic goods.